Polishing Components
We offer components such as mounts and cushioning used in the process of polishing glass.
We achieve a high degree of flatness and uniformity of bonding, regardless of how big a component is. Accordingly, we provide products that meet a range of requirements, including extra-large components that can be produced on one of Japan's largest presses, which we own, and recyclable precision polishing components that can be used semi-permanently with the consumable parts that are easily changed, because we finely control the bonding strength.
Some of our recyclable precision polishing components have already been in use for more than five years, contributing to cost reductions for users.
Polishing Pads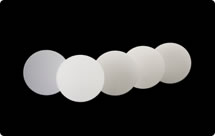 We offer polishing pads that have astounding polishing capability, made possible by the use of resin processing technology that we have cultivated over many years, allowing us to control resin impregnation at the micron level. We do not sell a series of completed products with generally demanded features such as a high degree of flatness and a high polishing rate; rather, we produce polishing pads that ideally match the polishing conditions of our customers and users.
Controlling the resin structure at the micron level greatly changes the polishing performance, even when adding the same amount of the same kind of resin to the same material. We can even handle next-generation device substrates that are difficult to process with conventional technology, such as SiC and GaN.
Explanatory material for the Advanced Power Semiconductors Division of the Japan Society of Applied Physics conference, held at WINC AICHI in Nagoya on November 19 and 20, 2014, is available here(in Japanese).